CALL FOR ENTRY: BC Culture Days
SCA Elected and Associate members, in good standing, have been invited to submit their work to the Digital Art Gallery, McMillan Arts Center, in Parksville, BC,  as part of the BC Culture Days celebrations.
The show will be exhibited in two ways: projected on digital screens in the art center, and hosted online. The jury will select the works and there will be 4 cash prizes. Sales will go through the artists directly, not the art center. Therefore, no sales commissions are required.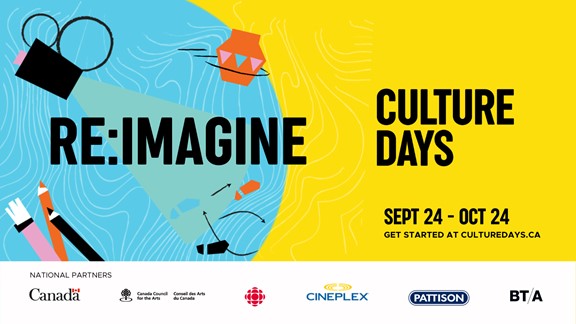 Culture Days is a national celebration of arts and culture. At the end of each September, millions of people attend thousands of free participatory arts and culture events across the country. Culture Days programs invite the public to get hands-on and behind-the-scenes to highlight the importance of arts and culture in our communities.
In light of COVID-19, this year's celebrations have again been extended to a 4-week run held indoors, outdoors, and online.
The Culture Days national organization supports a Canada-wide network of arts, culture, and heritage organizers to facilitate free public events in their communities every year during the Culture Days weekend.
Culture Days aims to:
FOSTER appreciation and support of the artistic and cultural life that is lived, created and expressed across the country in urban, suburban and rural areas alike;
2. PROMOTE direct interaction between creators and the public, as a key to increasing understanding and appreciation of art and culture; and
3. AFFIRM that every citizen is the guardian of the cultural life of his, her or their community.
The call for our 2021 BC Culture Days Exhibition is now open. We invite submissions from elected and associate members of the SCA in good standing.
All of the call information is listed below.  Please read the Entry Terms & Conditions carefully before proceeding with your submission.
If you have any questions, please contact our Exhibition co-ordinator, Nancy Overbury, at
exhibition-elected@societyofcanadianartists.com
Gallery:  Digital Art Gallery, McMillan Arts Centre, Parksville B.C., and the SCA's online exhibition gallery
Exhibition Dates: September 24 to October 24, 2021
Submission Deadline: August 24, 2021
Results Notification by Email: September 15, 2021
Opening Reception at the McMillan Arts Centre: September 24, 2021
Maximum number of artworks per entry: Artists may submit up to three artworks for jurying. 
Entry Fee (non-refundable): $30 for one artwork only;  $40 for two artworks; or $50 for three artworks
First Prize: $300
Second Prize: $200
Third Prize: $100
Prize for Best Vancouver Island Entry: $100
Karin Richter, SCA, CSPWC, ASA, PAC, MPAC-EP
Karin is an Honorary Member of the Society of Canadian Artists. (See our write-up about Karen on our home page!). She is an elected member of the Canadian Society of Painters in Watercolor (CSPWC), the Alberta Society of Artists (ASA), and Pastel Artists Canada (PAC) with a Master Pastellist designation (MPAC).
Sandra Murphy
Sandra, based in Aurora, Ontario, is a classically-trained oil painter. Her still life paintings feature antique or vintage items, children's toys, old tools, common household items, wine or fresh flowers — whatever captures her eye and imagination.  She is a member of the Federation of Canadian Artists, FCA Toronto, and the Society of York Region Artists (SOYRA), among others.
Nancy Calder, OSA
Nancy Calder is a Stratford, Ontawrio-based contemporary realist artist who focuses primarily on still-life painting. She is a member of the Federation of Canadian Artists, FCA Toronto, and the Ontario Society of Artists.
EligibiliTy, Terms & Conditions of Entry
Artist Eligibility:
This call is open to Elected and Associate SCA members, in good standing, only. 

Artwork Eligibility:
Only original artwork in traditional media including painting, drawing, printmaking, sculpture and photography will be accepted.

Entries must not be copies, derivatives, or based in any way on other artists' paintings, photographs,

copyrighted or not

, or other artistic work. Any infraction of this rule will result in serious consequences. It will result in, but will not be limited to, expulsion from the SCA. Entry fees or award prizes will be forfeited.
The artwork must be entirely the work of the entrant, executed without the supervision of an instructor, and completed within 3 years of the entry deadline.
The artwork must not have been previously exhibited in an SCA exhibition.
All artwork must be suitably framed.  In the case of three-dimensional work, installation instructions must be provided.
There are no artwork size restrictions for this online exhibition.

Conditions of Entry for the Online Exhibition

All artworks must be for sale, priced in Canadian funds, with the intent to sell.

Potential buyers will be prompted to contact the SCA's Exhibitions Director for more information about the artwork and to connect with the artist.

All sales resulting from the exhibition will be handled directly by the artist. The SCA artist will be responsible for connecting with the potential buyer, negotiating the sale price, collecting payment, and shipping or delivering the artwork.
The McMillan Arts Centre will not be charging a commission on any sales. Nor will the SCA.

The artist, by submission, grants the SCA the right to use accepted work for publicity, educational, references, and website purposes.
For this exhibition, you may enter up to 3 images.  Please ensure the images meet the following specifications.
Must be in jpg format only (jpg or jpeg)
Only the image of your artwork should show (no frames or extraneous backgrounds)
Images must not be smaller than 800px on its longest side *
Image files cannot exceed 3.0 MB *
Image files are to be named using the following convention:
FirstName LastName, Title, Medium, Size**.jpg (ie: Jane Doe, My Painting Title, Acrylic, 18×24.jpg)
*Images that do not meet these specifications will fail to upload. Please make sure your files are sized properly before you begin the submission process.
**Size to be specified in INCHES in HxWXD with D-Depth only required for 3-D work. 
The SCA will be using EntryThingy as its online submission provider for this exhibition. 
You will need to either have an existing EntryThingy account, or create a new one, in order to submit to this exhibition. The following button will take you to our submission page where you can find How to guides to help you create your EntryThingy account and submit your entries.
Please contact Nancy Overbury at exhibition-elected@societyofcanadianartists.com if you have any questions.