Raising the profile of Canadian art by supporting Canadian artists
Society of Canadian Artists

We are Canada's fine art community

Society of Canadian Artists

Raising the profile of Canadian artists

Society of Canadian Artists

Supporting all fine art mediums

Society of Canadian Artists

Promoting Canadian Artists

Society of Canadian Artists

Fostering the visibility of visual arts in Canada
Art is a voice. And in Canada – where our unique diversity of language, landscape and passion nurtures the creative spirit like few other places on earth – our artists comprise a chorus. Sometimes elegant, sometimes discordant. Through sculpture and paint, video and design software, cameras and conté crayons, the creative are saying something.
Our work is beautiful.
Our work is unsettling.
It explores darkness. It illuminates.
It tells of history, rooted in our land and experience.
It imagines the future, fearsome or dazzling.
In a country so creatively diverse, art is an anthem. The Society of Canadian Artists wants the world to know the tune.
SAVE THE DATE! / RESERVEZ LA DATE!
Exhibition Dates:

August 8 – 31, 2023
2023 Elected Members exhibition
Carre des Artists – Galerie Charbonneau, Montreal, Quebec
Exhibition Dates: September 16 – October 7, 2023
Opening Reception: September 16 at 6 – 9 pm ET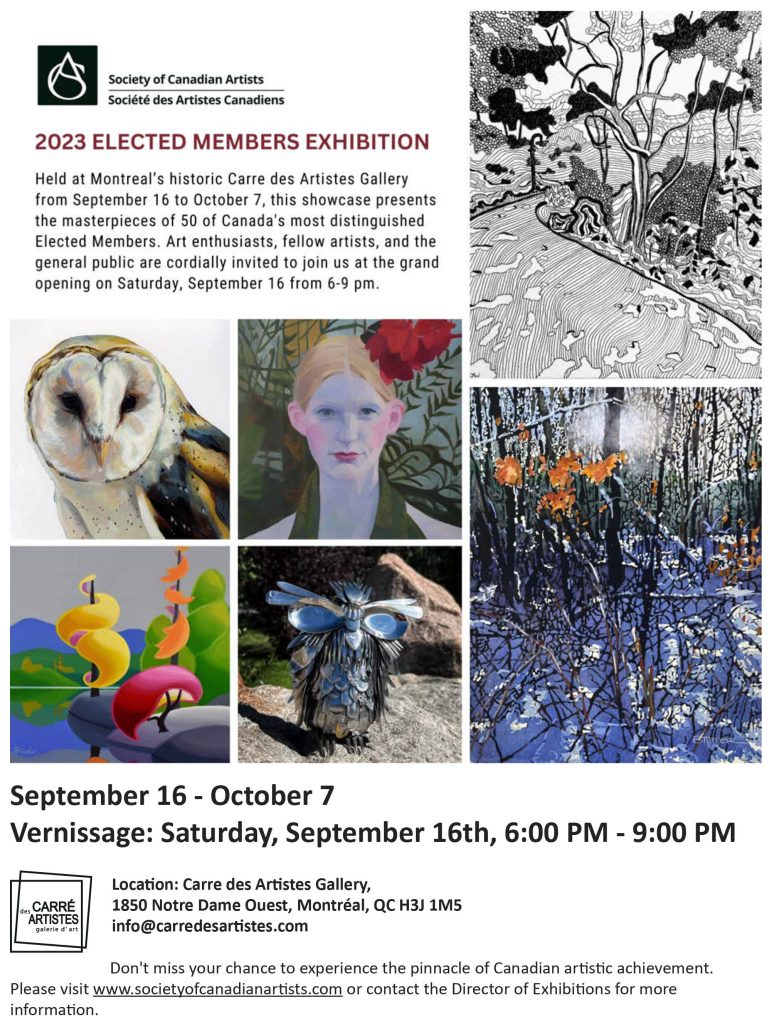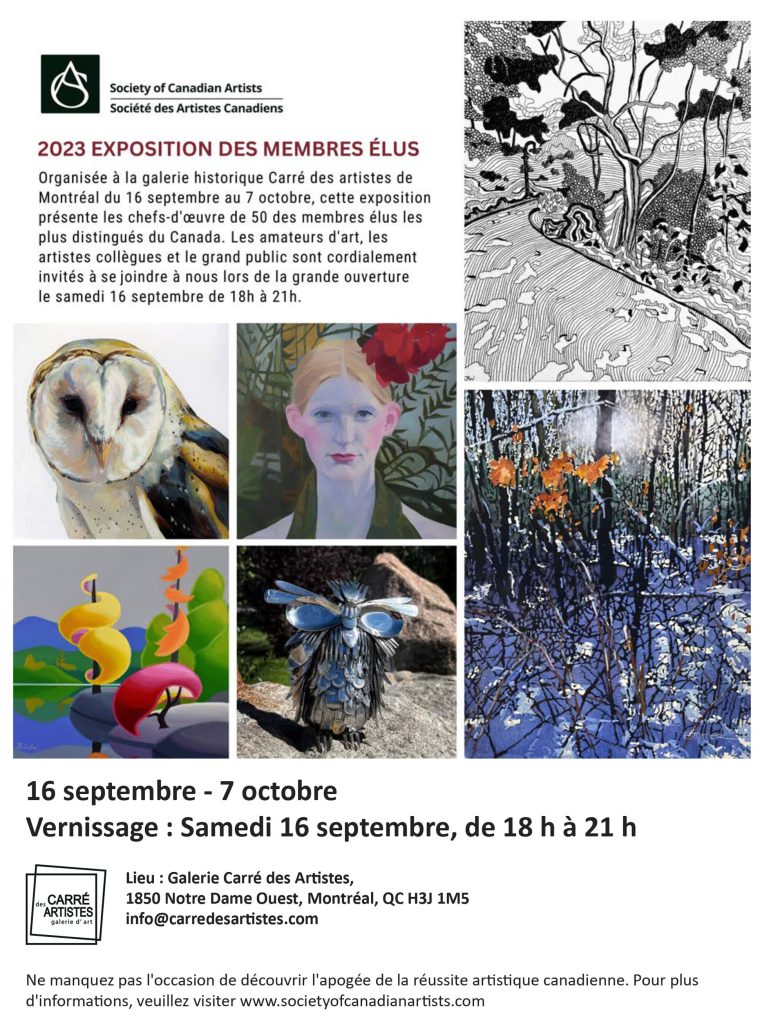 2023 Spring Call for Elected Membership
The Society of Canadian Artists call for Elected membership opens February 15, 2023 and closes March 31, 2023. 
Meet our Newest Elected members (Fall 2021)
The Society of Canadian Artists recently completed its Elected membership jury. 13 Canadian artists were accepted, each with their own unique style and flair.
Check out our New Members
You can check out each of our new members' work by clicking the button.
54th Open International Juried Exhibition
The 54th Open International Juried Exhibition is now closed.   There were 173 entries received with only 85 artworks selected for this exhibition.  Our warmest thanks to our jurours, John Clarke, Debra Usher and Beatrice Cloake for selecting the award winners and accepted works.
Location: Papermill Gallery, Todmorden Heritage Mills, 67 Pottery Road, Toronto, Ontario
Dates: August 5 – 28, 2022
Gallery Hours: Wednesday – Sunday from 11 a.m. – 4 p.m.
Official Opening and Awards Presentation, Friday, August 5, 2022 from 6:00 p.m. – 9:00 p.m.
 BEST IN SHOW: BONNIE SHECKTER for " Ah – Hyun" , Colour Pencil Drawing
DUGGAN CANADIAN LANDSCAPE AWARD : CINDY SOLEY-KEICHINGER for "Autumn Snooze", Acrylic
BIAFARIN AWARD: EMILY HUTTON for "Afternoon Tea", Oil
SCA 2ND AWARD OF EXCELLENCE: CATALIN DOMNITEANU for "Finally Tuned", Mixed Media (glass, metal,wood)
AWARD OF MERIT: JENNIFER HEINE, SCA for "Spinning A Yarn", Oil
AWARD OF MERIT: ALIJAN ALIJANPOUR, SCA FOR "Freshness", Oil
The call for our 2022 SCA Elected Members' Juried Exhibition is now open. We invite submissions from elected members of the SCA in good standing.
Gallery Viva Vida, 278 Lakeshore Dr, Pointe-Claire, Quebec H9S 4K9
Exhibition Dates: October 1, 2022 to October 15, 2022
Opening Reception: October 8, 2022   Time: TBA
New Submission Deadline: August 31, 2022 (Midnight: 12:00 a.m. EST)
CALL FOR ENTRY - FALL ELECTED JURY
The next call for new Elected members is now OPEN. We invite submissions from all Canadian artists.
Applications will be accepted for SCA Elected membership from September 6th to October 20th, 2022.  Please read the SCA Fall 2022 jury process information carefully as there have been a number of changes.
2022 Atlantic Regional Exhibition
THEME: BEING OURSELVES / Entity, Oneness, Unification Wholeness
14 BELLS FINE ART GALLERY, 5523 YOUNG STREET, HALIFAX, NOVA SCOTIA
EXHIBITION DATES: OCTOBER 15 TO 30 OPENING RECEPTION: OCTOBER 15, 2022
Presenting our 65th Logo Mosaic Project!!!  This compilation of 94 SCA Members' artworks showcases the vast talent and voice of our Canadian Artists! The tapestry of unique fine art displays acrylic, oil, pastel, watercolour, mixed media, photography, digital art, sculpture, printmaking, and drawing, providing a unique kaleidoscope of our diverse community! We delight in sharing our anniversary logo with you and invite you to take a closer look at each frame. Thank you to
Andrea Howson, SCA
who worked tirelessly to compile all work and design the mosaic to celebrate our
65th Anniversary
. Congratulations to all of the artists who participated!
This year we recognize one SCA member with Life membership. This honor is bestowed upon members who have maintained 30 years of consecutive membership with the society. 
Donna Jo has been a member since 1993.  To read more about Donna extensive career, please click here to read her bio.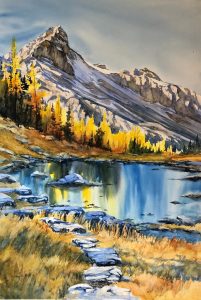 Cathedral Mountain
Special Recognition Award
The board has unanimously voted to grant a Special Recognitions Award to a member of the SCA for their outstanding volunteerism on behalf of the SCA,  this Special award is given to Alison Grapes from Nova Scotia. 
Alison has been a member of the SCA for many years, she has come on board to help the Exhibitions Director as Submissions Coordinator, (2019-2022) managing our digital platform, Entry Thingy.
Congratulations Alison!!!
The Society of Canadian Artists publishes our SCAnews newsletter three times a year. You can catch  up on our members' news and events as well as what's happening in your society.
With over 350 members, SCA represents art supporters and professional artists who work in a variety of styles and media. With membership in the SCA, artists find support at all career stages, and benefits span the use of a respected designation, to online promotion, to participation in members-only exhibitions. And much more….