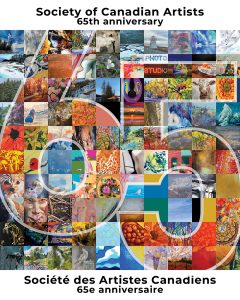 In 2022, the SCA is celebrating 65 years with a series of exhibitions, each recognizing the highest quality of artistic expression through a program of prestigious awards.
The 65th Anniversary AGM celebrations took place on June 11th at the Arts and Letters Club, Toronto. 
Guest Speaker Katerina Atanassova, Senior Curator of Canadian Art at National Gallery of Canada inspired everyone with her talk on Canada and Impressionism.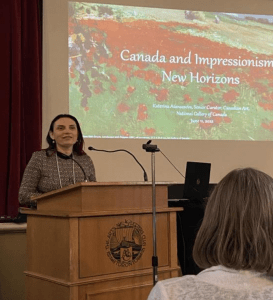 Our special year will close with the annual Winter Holiday Party
in November at the Arts and Letters Club, Toronto. 
Date: November 25, 2022
Time: 7:00 – 9:00 p.m.
Guest Speaker: Olex Wlassenko (Curator – Whitby Station Gallery, Ontario)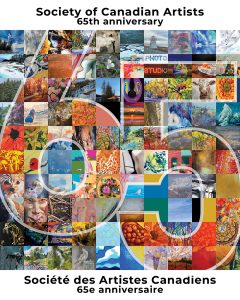 Presenting our 65th Logo Mosaic Project!!!
This compilation of 96 SCA Member's work showcases the vast talent and voice of our Canadian Artists!
The tapestry of unique fine art displays acrylic, oil,  pastel, watercolour, mixed media, photography, digital art, sculpture, printmaking, and drawing, providing a unique kaleidoscope of our diverse community!
We delight in sharing our anniversary logo with you and invite you to take a closer look at each frame. 
Thank you to Andrea Howson, SCA who worked tirelessly to compile all work and design the mosaic to celebrate our 65th Anniversary. Congratulations to all artists who participated!

Marissa Sweet SCA OSA
SCA President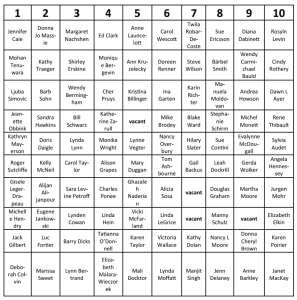 Participating Artists
Top row, from left to right: Jennifer Caie, Donna Jo Massie, Margaret Nachshen, Ed Clark, Anne Launcelott, Carol Wescott, Twila Robar-DeCoste, Sue Ericsson, Diana Dabinett, Rosyln Levin
Second row, from left to right: Mohan Tenuwara, Kathy Traeger, Shirley Erskine, Monique Bergevin, Ann Kruzelecky, Doreen Renner, Steve Wilson, Bärbel Smith, Wendy Carmichael Bauld, Cindy Rothery
Third row, from left to right: Ljuba Simovic, Barb Sohn, Wendy Bermingham, Cher Pruys, Kristina Billinger, Ina Garten, Karin Richter, Manuela Moldovan, Andrea Howson, Dawn L Ayer
Fourth row, from left to right: Jeanette Obbink, Sandra Hawkins, Bill Schwarz, Katherine Zarull, vacant, Mike Brodey, Blake Ward, Stephanie Schirm, Michel Monett, Rene Thibault
Fifth row, from left to right: Kathryn Mayerson, Doris Daigle, Lynda Lynn, Monika Wright, Lynne Vegter, Nancy Overbury, Hilary Slater, Sue Contini, Evalynne McDougall, Sylvia Audet

Sixth row, from left to right: Roger Sutcliffe, Kelly McNeil, Carol Taylor, Alison Grapes, Mary Duggan, Tom Ashbourne, Gail Backus, Leah Dockrill, Gerda Wolker, Angela Hennessey
Seventh row, from left to right: Gisele Leger-Drapeau, Alijan Alijanpour, Sara Levine Petroff, Charles Ponee, Ghazaleh Naderian, Alicia Sosa, vacant, Douglas Graham, Martha Moore, Jurgen Mohr
Eighth row, from left to right: Michelle Hendry, Eugene Jankowski, Lynden Cowan, Linda Hein, Vicki McFarland, Linda LeGrice, vacant, Manny Schulz, vacant, Elizabeth Elkin
Ninth row, from left to right: Jack Gilbert, Luc Fortier, Barry Dicks, Tatianna O'Donnell, Karen Taylor, Victoria Wallace, Kathy Dolan, Nancy L Moore, Donna Cheryl Brown, Karen Poirier
Tenth row, from left to right: Deborah Colvin, Marissa Sweet, Lynn Bertrand, Elizabeth Malara-Wieczorek, Mali Docktor, Lynda Moffatt, Manjit Singh, Jenn Delaney, Anne Barkley, Janet MacKay