ANTHONY J bATTEN, CSPWC, SCA, OSA, SFCA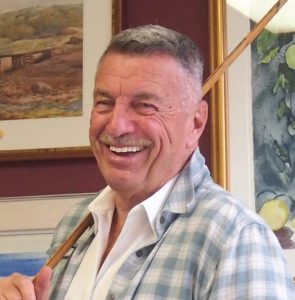 December 29, 2020
Dear Fellow SCA Members,
It is with sadness that I pass on the news of the passing of our Honorary Member, Tony Batten. Many of you knew Tony. He was a friendly presence at all our AGM's and Winter Holiday Parties.
Tony was awarded Honorary Membership in tribute to his art career and in gratitude for all he did in helping fellow artists. For example, Tony was instrumental in executing the Royal Collection Project, which brought 75 Canadian Watercolours to the Royal Collection of Queen Elizabeth.
A few years ago Tony was the guest speaker at our AGM, showing us his series of paintings of the interior rooms of the Parliament Buildings. Architectural Conservation is one of his passions. In his presentation he inspired us to promote each other.
Tony was the President of the CSPWC from 1993-1995. In 1996 Tony won the A.J Casson Award for the best watercolour in the CSPWC Open Juried Exhibition. In 2007 he became a life member of that organization. In 1992 he was the recipient of the 125th Anniversary of the Confederation of Canada Medal in recognition of his volunteer activism. Tony was also awarded the 2002 Queen Elizabeth II Golden Jubilee Medal and the 2012 Queen Elizabeth II Diamond Jubilee Medal.
Tony's paintings are in many collections including The Canadian Senate, The Royal Canadian Military, The Government of Ontario, The Archives of Newfoundland and Labrador, The Royal Collection in the UK, the Vancouver Maritime Museum and the City of Toronto.
Tony could captivate a room with his wit and wisdom. He lives on in his art of five decades of paintings, and in our hearts
Respectfully,
Josy Britton, SCA Communications
P.S. Below are some links to Tony's biography and portfolio: